Inventory storage is the number of items that can fit in your Pantry Check inventory.  Every item takes 1 space and as soon as you finish an item, it will free the space it takes in your inventory.  Finished, spoiled, deleted items don't take space.
Pantry Check provides 200 items of inventory storage for free to all users.  This is usually adequate for small 1-2 person households.
Pantry Check offers inventory storage subscriptions when you need more space:
Try before you buy – start a risk-free trial with Pantry Check before deciding on purchasing a subscription.
Never worry about automatic charges – both subscriptions and trials automatically cancel at their respective period end.  Pantry Check will prompt you to renew the next time you try to add items to the inventory.
Your data is preserved – when a subscription expires and you are out of inventory space, all inventory items are still available in the app, only the ability to add additional items is restricted.  At that point you can either finish enough items to free space or extend your subscription.
Purchase inside the app – Pantry Check will prompt you with subscription and trial options when you need more storage and you can purchase the subscription inside the app.

Find the latest prices, including any ongoing promotions, open Pantry Check and navigate to menu/settings > inventory > storage plans.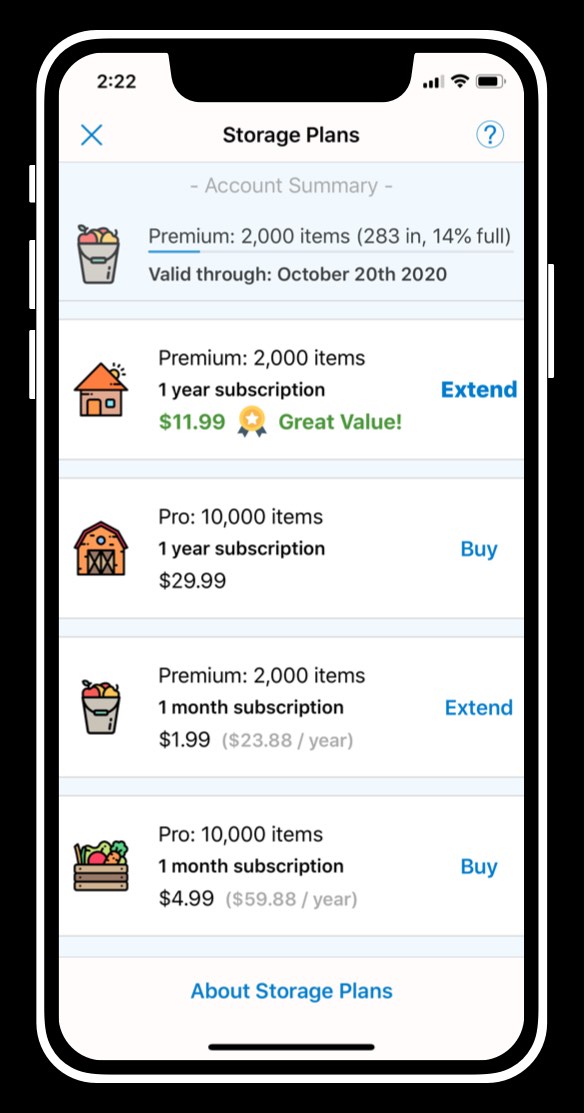 Why not offer Pantry Check as a "free" ad-supported platform?  We thought long and hard before settling on our subscription-based business model:
We don't sell your data – third-parties don't have access to our users' data and you are not going to see ads chasing you around the web based on your household inventory.
No locked features or annoying pop-ups – everyone has full access to the power of Pantry Check.
Great value – for the price of a couple heads of lettuce, our most-popular annual plan helps you save a lot more by avoiding overbuying and reducing food waste.
A fair model – the more storage one uses, the more taxing it is on our servers and ongoing infrastructure costs.
Continued development – a portion of the subscription revenue goes to support our developers and staff that make the app better all the time.
We started Pantry Check with the mission to reduce food waste.  Along the way we discovered a wonderful community of users that have propelled Pantry Check to become one of the best household management apps.
Subscribing to a storage plan helps us keep the lights on, but we also appreciate it when you rate or share Pantry Check with friends, contribute product data and write to us at [email protected].
Thank you for your continued support and for being a part of this journey!